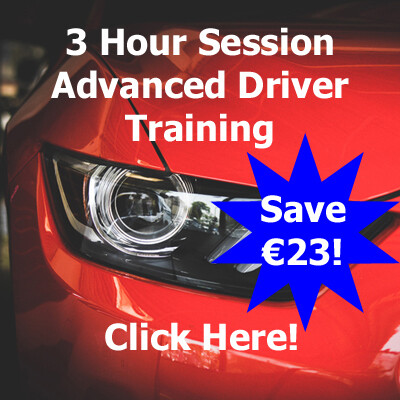 3 Hour Advanced Driver Training Session (Swords, Dublin)
SKU 0000048
Product Details
Save €23!
3 Hour Advanced Driving Lesson, Cars & Light Commercials: In-car on-road session, 1:1 ratio; 3 hour duration, using your own vehicle* or our training vehicle#
Courses are run in Dublin, meeting point in Swords.
* Certain criteria, including criteria relating to vehicles provided by delegates, will have to be met to satisfy the requirements of our Health & Safety Policy Statement. Vehicles used must satisfy all legal requirements. They must be roadworthy, taxed and insured as appropriate with valid discs displayed as per current legislation. A valid NCT disc (if applicable) must also be displayed as per current legislation.
Your trainer will carry out vehicle checks prior to commencement of lessons to ensure legal compliance.
Lack of legal compliance will result is cancellation of the lesson with full costs to customer.
# our current training vehicle is a new Ford Focus Hatchback, Turbo Petrol Engine, 6 Speed Manual Transmission. Extra costs of €15 per hour will be applicable if you choose to use our training vehicle.
Key Elements:
Roadcraft techniques

Police System of Car Control

Commentary driving

Smooth & accurate use of controls

Appropriate gear selection

Observation

High visual horizon

Scanning

Planning

Anticipation

Hazard perception skills

Drivers' signals

Safe progressive use of speed

Safe cornering

Positioning for best advantage

Vehicle sympathy

Courtesy

ECO-Driving

Restraint

Overtaking

Urban

Motorways

Country Roads
What Are The Benefits?
Demonstrable driving improvements reducing risk

Reduced collisions

Reduced insurance costs

Reduced repair & maintenance costs

Reduced downtime

Enhanced driving style helping reduce driver fatigue

Strengths as well as weaknesses and risks are established

In-vehicle sessions

Detailed report
Payment required for all courses at time of booking.
Full fees will apply if a course is cancelled by the customer within 48 hours of starting time.
In the event that Colm Branigan cancels a course with less than 48 hours notice, a new appointment will be arranged free of charge in lieu#
#Colm Branigan reserves the right to cancel a course at short notice where he feels that safety may be compromised. e.g. due to adverse weather conditions. In this case a new appointment will be arranged for a replacement course at the earliest possible time to suit both attendee & trainer.
Save this product for later